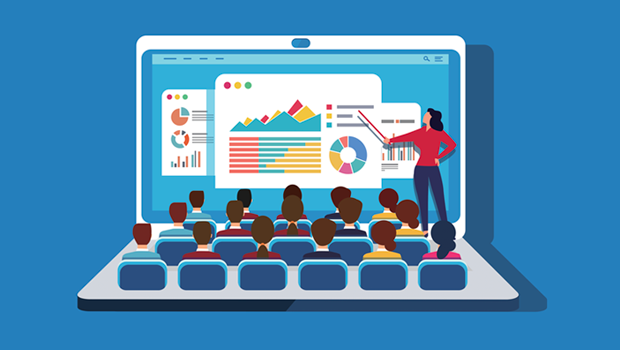 The Coronavirus life is a new life and by now, we should have come to terms with that if not, here's a reminder!  The whole world has been practically working out of their homes for the past 60 odd days and it doesn't look likely for that trend to die down. Many corporations have declared 2020 as a work from home year altogether and some have been permanently allocated work from home to some employees. Things have started to become more and more digital-first, virtually engaged. This means more conferences, more video calls, more online demos and of course more event signup apps to organize these events.
In this virtual-first world, the best skill you can learn is how to organize events like these when it is your time to host one. Here are 7 honest tips which will level up your event hosting game.
Clear the Clutter
You're going to be doing a lot of video calls, as we mentioned. Whether you're working out of your home office or you're working a mere few feet away from your bed, it is always a nice touch to be in neat and tidy surroundings. It gives you a professional look and besides, you don't want to present a meeting with your private life information to be seen by thousands of people online. In addition, you do not want to have awards and trophies lined up as well, too many stimuli might actually distract your audience. The safest bet is to keep it simple and bland like you're just in some room and the focus is on you.
Keep Distractors Busy
Static distractions are easy to take care of just a little tidying up at the end of the day. However, how do you take care of walking, talking distractors i.e. the people in your life. It is quite funny when you see people in the background of a video call in other people's homes and trust me we've had a few laughs. However, in a professional event setting, there is no humour in that. It is advisable to let the people in your life be it your family members (including your furry friends) and work colleagues know that you're in a super important meeting.
Get Gear
The advent of a digital-first world means that your webinar is no longer just a stand-alone/one-off event. These can now be recorded, replayed and reshared amongst millions of people on the internet. This is a good thing for all of us, referring back to old insights when necessary. While the streaming through a conference event app or similar platforms is always likely to simmer down the quality of your recording, the raw recordings can be made better if your equipment is in top-notch working condition.
Get a Stage (virtual)
How and when you organize your online conference/ virtual event is an important aspect but where you will conduct it is probably one of those things that you just cannot get wrong. Choose wisely when selecting a virtual events platform. Each tool has a separate way of packaging their offers, as well as what admin tools you'll have available to you. This is where it'll take some shopping and product comparisons to determine what's best for your webinar's structure. If you intend to have the audience get involved, which can be effective and is a bigger trend these days, then tools with strong admin abilities would be favoured in order to control the audio.
Get Them Talking
A virtual event or any other event for that matter is only as successful as engaged the audience feels during the event. The best thing, therefore, as an event organizer is to find out innovative ways to get the audience involved. Virtual events also present with the unique opportunity to give every attendee an equal footing in getting their voice heard with great admin management. Virtual events should always feel like the attendee might miss out on something important if they decide not to be as attentive towards your content.
Get Testing
Every publication you will come across will advise you to follow three words for proper event management: Test, Test, Test! Doing a dry run or three, before your big day, is pivotal in order to check the lighting, the tech specs and everything related to an event that is not a direct outcome straight from the speaker. Every little detail for the event engagement to take properly is needed and it is needed yesterday! Take initiatives to ensure there are no goof ups when you're in the zone and spitting knowledgeable insights.
Get Talking
Okay, so assuming you followed the above steps somewhat carefully, you should have conducted a pretty solid online event by now! However, the work never stops! In fact, some event organizers would hail that "the real work begins post-event". Keep a close tab on who and when to follow-up for those specific business goals you organized this event for. The ultimate goal should be crystal clear before the event and the post-event activities planned out accordingly.
Planning and executing an online event is in no way a cake's walk and neither should it be taken like one. There are some serious considerations before conducting the event and painful ramifications if not executed well. However, we believe this honest and to the point guide will help you along the way as you go about conducting your virtual event.