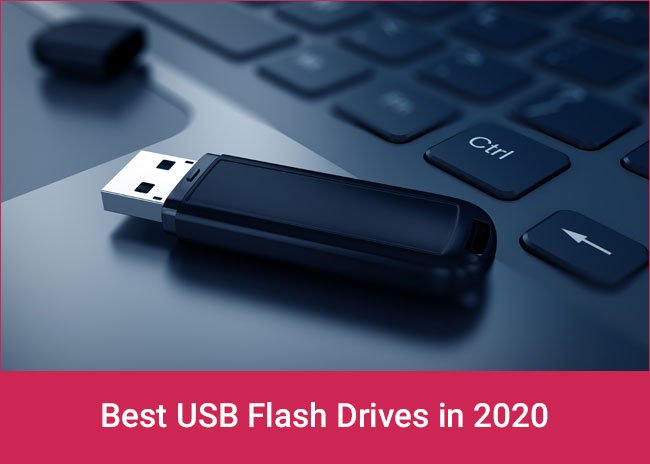 USB flash drives are portable and used to transfer online data to various digital devices like computers, laptops, and many more. These are defined as portable storage devices used for multiple purposes. Moreover, USB flash drives come in various memory ranges between 1 to 128GB. Also, they facilitate a speedy data transfer without any fuss. Besides, it consumes low power and offers more excellent compatibility with all storage and electronic devices. Moreover, multiple programs and applications can be run directly from USB flash drives. You can boot directly and instantly the software application like games, image editors, Office software, and web browsers from the USB flash drives.
Nowadays, USB flash drives are more relevant and accessible among users when it comes to carrying and transferring vast amounts of online data. With the improving technology of USB flash drives and falling prices of storage, you can take all your folders and files stored on your desktop or laptop in your pocket. You will need to spend only a few bucks in doing so. But, purchasing a USB flash drive is not as easy as you think. It will require you to know various types of connections, including USB 3.0, USB 2.0, and USB 3.1.
Additionally, you need to know about the write and read speeds of the drive to measure its performance regarding data transfer. To make you select the best USB flash drive, here is the list of some excellent USB drives delivering a great mix of affordability and features.
The Best USB Flash Drive That You Should Buy
It can be considered the best USB drive, which is offering USB 3.1 connectivity, a compact design, and the speed of drive's read up to 300MB/s. The USB flash drive available in multiple sizes offers plenty of storage from 32GB to 256GB and a right mix of affordability and features. Also, it is water, magnet, shock, X-ray, and temperature proof, making your device completely safe. It has enough capacity to store your relevant work documents, personal files, irreplaceable videos, photos, and memorable tunes. The storage device has been designed to stay in plug and provides instant storage for your tablets: laptops, TVs, gaming consoles, car audio systems, and many more.
You will get the Traveler G4 USB drive with support for USB 3.0 and storage of 16GB. The compact and portable storage device has an enormous capacity to save your documents, files, photos, and other essential data and transfer your online data quickly and easily. It has the cap on its plug, keeping it safe from any damage. Also, the loop present at the end of the USB drive reduces the chances of losing it as you can connect it to a keychain. It comes with standard read and writes speeds.
The incredibly affordable USB drive has earned great popularity among the users with its support for encryption and robust design. It features a red slider and black finishing touch along with a retractable connector for the USB protecting it from any external damage. It astounds the users with its higher data transfer rate and provides a storage capacity of 64GB for saving all necessary files, photos, and videos. It comes with a red light status indicating whether your device is plugged or not. In simple terms, it is one of the best USB flash drives with encryption support for 128-bit AES, SanDisk SecureAccess Software, sufficient security and speed, and sleek design.
It is one of the most capable USB flash drives offering storage of 128GB and connectivity of USB 3.1, which ensure fast data transferring speed. According to SanDisk, the USB flash drive can deliver 380 MBps of write speeds, and 420 MBps read speeds. It comes with an aluminum body making it capable of withstanding different types of shocks and damages. Moreover, the USB drive is ideal for enthusiasts and professionals who need to transfer many files and data. It can transfer a full-length 4K data in only 15seconds. It also features RescuePRO Deluxe and SanDiskAccess Software encryption support for 128-bit AES, which are capable of recovering your files if lost.
The USB flash drive featuring ample storage and robust design can be ideal for the people who often travel and want to protect their online data. It offers massive storage of 128 GB enabling the users to store overall 24 thousand songs on their device. Its design is resembling a sliding collar useful in protecting the connector if it is not in use. The USB flash drive comes with an integrated loop that can be used to attach the device with any backpack or keychain.
It reduces the risk of losing your USB device. In simple terms, it offers ample storage, decent features, and travel friendliness. Moreover, the support for USB3.0 speeds up the support for data transferring up to 10 times compared to USB 2.0 with the same features.
With a slick look, the USB flash drive offers fast transferring of data and ample storage. It can be considered as the best one for MacBook Pro and MacBook Air that supports only ports for USB-C. It offers storage of 128GB accommodating transfer of data to and from multiple devices. For example, you can transfer data from your PC to your Android smartphone to the latest Macs of Apple. Besides, the manufacturing company says that the data transferring speed can be achieved up to 150MBps. Also, it comes with a retractable feature allowing you to retract it from the connector if it is not in use.
The Flash Drive provides outstanding protection to the device from any damage. It comes with an anodized aluminum-based aircraft-grade design making it waterproof and providing resistance to shock and vibration. In simple terms, the USB flash drive can protect your data even if you drop it anywhere. It supports USB 3.0 and gives ample storage of 64GB, allowing you to save plenty of content in videos, files, photos, music tunes, and many more. Moreover, it works across several platforms without any drivers. However, it is a bit pricey and comes with a limited five-year warranty only, but it offers excellent usability and features.
The storage device is not only feature-rich but has excellent design also. The USB drive features a high-quality metal housing providing its durability and making it easy to use and grip. Moreover, it offers a five-year warranty and proof technology, making your device, shockproof, waterproof, X-ray proof, magnetic proof, and temperature proof. You can attach the drive with the integrated ring in the USB drive to reduce the risk of losing it anywhere. However, it is a little bit expensive but offers fast and speedy data transfer due to the support of drive for USB 3.0.
It is a famous USB drive that offers connectivity for USB 3.1, making it ultra-fast when it comes to delivering fast write and read speeds along with stringing your data. Moreover, you can easily detect whether your device is connected or not, or transferring your data is going on with its LED-based light status. The USB flash drive comes in 8GB to 256GB of various versions, allowing the transfer of data with 180MBps read and 70 MBps write speed. Its metal casing has been made from the alloy of die-cast zinc, making it water and shockproof further helpful in protecting your data.
The USB flash drive comes with metal casing making it highly durable. The Lightning connector integrated with it allows the users to connect the device to an iPad or iPhone for transferring data from and to that specific device. It is well known that transferring data from these devices without Apple's support is very difficult, so the feature has become the significant selling point for the USB flash drive. Moreover, it acts as the backup drive and expandable storage for iOS-based devices. The USB flash drive offers storage of 128GB, but it can be configured up to 256GB. Its connectivity support for USB 3.0 allows it to deliver fast transferring of data.
The Best USB Drive: How to Choose?
When you are going to shop for a USB drive, then first find out the storage. Like any other commodity, you can find an abundance of USB drives in the market with a different price range, storage, performance, and design. But, storage remains a deciding factor as you need to save and transfer data. If you have a large number of videos, files, or songs to keep or carry with you on any device, then choosing a USG drive giving storage of 64GB is suitable for you. Also, you can go for the USB drive giving up to 256GB or more storage. If you are looking for some cheap options and your requirement is somewhat limited, then getting a 16GB or 32GB USB drive will also be perfect. You will also need to consider some other outstanding features, such as the read and write speed of the USB drive. If it has a fast pace, you can access more data while transferring it. This is why most of the users look for connectivity support for USB 3.0 or USB 3.1. Besides, don't forget to look for the durability of the USB drives and buy a one with water and shockproof features to protect your device from any damage. You can also look for other features if they are protecting from any damage to your device. Checking for a warranty is also an essential factor that can't be ignored before buying a USB drive. However, most manufacturers give a lifetime warranty, but if any company is offering only five years, it can also be considered.