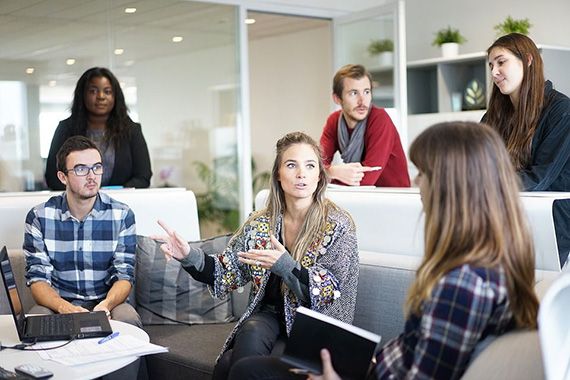 Coworking spaces have provided a wide range of workspaces for modern workers. Some of these workspaces are based in coffee shops, private member clubs, office blocks, and more. Now, a new trend saw coworking spaces moving in shopping malls. While this could prove to be an innovative environment for coworking spaces, it might also shape the retail industry's move towards a new shopping mall model by 2030.
We are seeing this trend unfold on a global level with hotspots, including San Francisco, Dublin, Shanghai, Melbourne, and Moscow. Let's take a closer look at this upcoming move, which could potentially be the savior for shopping malls.
In the last years, many retailers had to close their stores because of bankruptcy, while shopping malls saw a considerable decline in demands for physical retail spaces. The shopping malls have been surviving my diversifying their tenants and depending on technological advancements. However, now that the coworking spaces have taken an interest in shopping malls, shopping malls have started to develop their own coworking brands.
Since retailers are taking lesser spaces, a lot of space in shopping centers go unused. This has caused the renting prices to be lowered. Shopping centers have already tried to utilize these spaces with leisure facilities such as restaurants, cinema halls, bowling alleys, and more. Nevertheless, these offerings don't make up for the approximate 30% closure required to meet the tenant demand.
One of the major causes of the decline in demand for physical stores in shopping malls is the e-commerce industry. Moreover, the consumers spending from goods to lifestyle experiences have only added to that factor.
Shopping mall owners and coworking brands
Westfield is the first shopping center to develop its coworking brand. Bespoke, a 40,000 sq ft space designed specifically as a retail-tech ecosystem for coworking spaces, demos, and pop-up shops, opened on the fourth floor of Westside San Francisco. The coworking space accommodates corporate and startup members from across payment, AI, virtual reality, e-commerce, and retail industries.
Another example of shopping centers investing in their own coworking brand instead of letting space to an operator is the Atmosphere. Situated outside Moscow's city center, space has a conference hall and is run by Atmosphere's parent company Tashir.
Some of the benefits for shopping centers having their own coworking space include the opportunity to drive thought leadership in the industry, bringing in more than 100k visitors to the center, and having early access to test and support retail innovators, as detailed by Kimiko.
Operators taking shopping mall space
On the other side of the spectrum, coworking spaces are signing leases with shopping centers. One of CHQ's largest tenants is the Dogpatch Lab startup hub, located in Dublin's digital docklands. The 1820's shopping center allows exciting tenants to hold space in their malls.
While renting shopping centers to coworking spaces can be challenging for coworking space's flexibility with time for its members, many startups have built a strong relationship with their landlords, allowing them to operate in their own time.
Conclusion
Whether the coworking space is run by the landlord or tenant, certain essential features must be considered:
It should offer community-based ecosystem instead of traditional office space
It should have a partnership with retail-tech startups
There should be an investment in designing and presentation
And criteria for member selection
Some of the challenges faced by operators include lack of control over building operations, lack of daylight and control over opening and closing hours, and frequent positioning in remaining space or higher floors.
On the other hand, the challengers shopping malls face is basically the decision to divide revenue by letting space to an operator or choosing to go with their own coworking brand as new entrants to the workspace market.