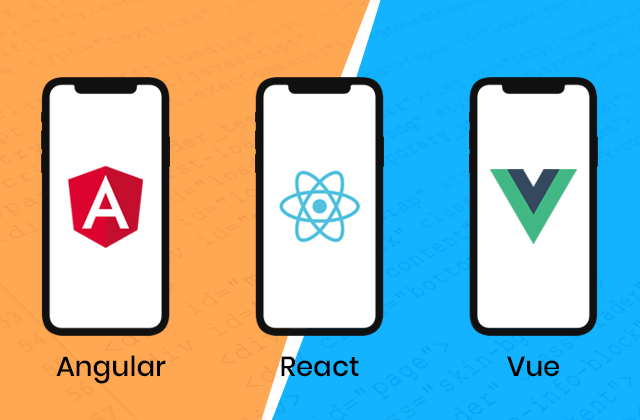 How to choose the right programming language?
It is important to understand the technical requirements or business requirements.
Understand the physical environment of the operation.
Understand the uses of the programming languages.
Science and technology are an ever-changing subject with newer things being added every day and the older things becoming obsolete. Very similar is the case in computer software and one of its most popular and highly used programming languages – JavaScript. Being the most versatile of the programming languages, it can be used on both the server-side and the client-side in desktop and mobile apps. Almost all major software development services vouch for JavaScript.
App developers when working on the framework development by using JavaScript have three options to choose from — Angular, React, and Vue. Let us have a detailed overview of all the three below –
▪ Angular –
Released by Google in 2010 it is a JavaScript framework based on the typescript. Initially called AngularJS, the name was changed to Angular after Angular 2+ was released in 2016. Google and Wix are the two reputed organizations amongst others using Angular. Just about a year back Angular8.0.0 was launched.
▪ React –
Facebook released the same in 2013, rather it was compelled to do so because of its extremely high traffic content. Additionally, it can fix issues of coding and maintenance. React is also used in sites with very high traffic. Its latest version 16.8.6 was launched around this time last year. Some of the big names using React are Paypal, BBC, WhatsApp, Instagram and Glassdoor which are all household names.
▪ Vue –
Ever since Vue was released in 2014 it has gained immense popularity amongst the app developers. Gitlab and Alibaba are known particularly for using Vue. Its latest version 2.6.10 is just about a year old.
The popularity of the three – Angular vs React vs Vue –
To evaluate the popularity of the JavaScript development companies, certain statistics need to be looked into –
▪ Statistics of stack overflow –
According to the latest statistics, React is the most popular of them but Vue is a very close second and is breathing down the neck of React. Vue will substantially reduce the gap in the coming.
▪ Google Trends –
Google Trends presents a very different story. When it comes to searches, React leads the way flowed by Angular. Vue is not close.
▪ Npm trends –
The trend shows the number of downloads and the star ratings. Statistics show React is number one followed by Angular and Vue. However, when star ratings are concerned, Vue tops the list followed by React and Angular.
Performance of the three – Angular vs React vs Vue—
Memory consumption based on DOM manipulation can be taken as the benchmark. All the results are exciting.
▪ Angular – With tiny updates of DOM, which consume 50 ms, Angular is known to excel. When any webpage is loaded with DOM manipulation the memory consumption almost becomes double.
▪ React – React performs very well and also the performance is good even when the DOM update is bigger. As far as memory consumption of React is concerned, it doubles just like Angular when loaded with DOM manipulation.
▪ Vue – The performance is as comparable as React. As far as memory consumption is concerned, after uploading DOM manipulation it is far superior to Angular and React.
The top users of the three — Angular vs React vs Vue –
Not only the big shots in the corporate world but also many reputed software development services are extensively using the three JavaScript frameworks. Let us quickly browse through some of the big names in the industry-
● Angular – As already discussed, Angular was developed by Google is being used extensively in Google Adwords Application. Other important organizations are weather.com and The Guardian, one of the leading newspaper houses in the world.
● React – React was developed by Facebook because of the extremely high traffic apart from coding its publicity campaign and maintenance. The three other reputed names which are using React are WhatsApp, Twitter, and Instagram which require no introduction to the IT fraternity
● Vue – Although it is new, yet Vue is being used by 9Gag and GitLab.
Community response of the three – Angular vs React vs Vue –
Community support is very important for any software development services to thrive.
Let us have a look at the community support of the three –
● Angular – Apart from the usual support of Google Adwords, Angular gets regular updates and releases regularly. Major updates are known to arrive after 6 months. It continues to provide regular community support.
● React – There is a dedicated team that is constantly working for the betterment of the framework. Many of Facebook's products are coded to React. No wonder since such a big brand is involved, many other app developers rely on React.
● Vue – Being comparatively new, still, it has won accolades because of its open-source community.
Framework size – Angular vs React vs Vue –
● Angular – Angular offers many templates and testing utilities to the app developers. This is precisely the reason, because its size is not suitable for lightweight apps.
● React – React is comparatively higher and it is known to require support from several other libraries when the process of routing is involved.
● Vue – Since Vue is the smallest it is amongst the three, it is very apt for lightweight app development.
Learning Curve all the three – Angular vs React vs Vue –
The learning curve is responsible for marking the capability of all the application users to work on codes in certain programming languages.
● Angular – As Angular uses Typescript a subset of Javascript, it has one of the most difficult learning curves. It contains certain powerful features that help developers to use certain coding patterns.
● React – React has a medium learning curve compared to Angular. It has got two good features – 1] it is very compatible with ES6 syntax and 2] It uses JSX syntax which is a combo of Javascript and HTML.
● Vue – Since it is closest to the Javascript basics and HTML, Vue has the easiest learning curves.
Scalability of the three – Angular vs React vs Vue –
It is essential to understand how the three react at the time of several requests and peak loads. Let us see the behaviors-
● Angular – Angular is particularly famous for featuring modules, which will assist the app developers to organize certain related components along with all the dependencies.
● React – React is a library through which reusable components on a page can be created.
● Vue – Vue is only suitable for lightweight applications, as it is a lightweight Javascript library.
TakeawayThe three programming languages are only versatile and it is hard to say, which one is better than the other. Not to mention, all three languages are being used by different big organizations. On the basis of the requirement that you have, you can select the programming language of your choice.