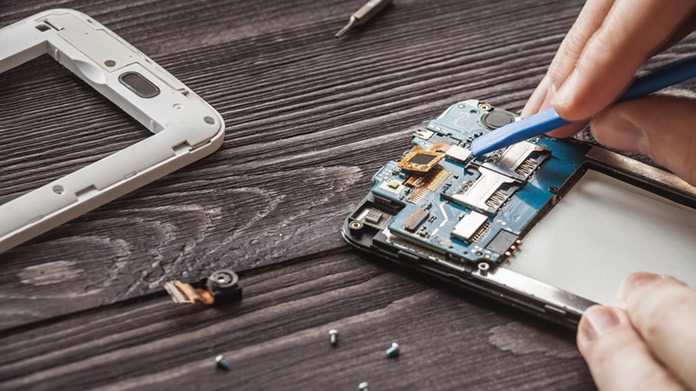 The repair industry is constantly changing. For example, cell phones are regularly updated with newer models, and repairing these devices has gone digital.
Now, this requires a different set of skills than the traditional repair shop needed in the past. Customers today expect to be able to walk into your shop and get their device fixed right then and there!
With all that's expected of your cell phone repair shop business, it can seem like a lot of work for one person to handle alone.
That's where business process automation comes in! And you can easily do that with your cell phone repair shop software.
What Exactly Is Business Process Automation?
As the name implies, business process automation is the art of digitally transforming or "automating" your procedures. It's designed to essentially simplify repetitive and complex activities by reducing them down to their most basic elements.
This can be anything from managing appointments, scheduling staff, and even contacting customers.
Automation is a fantastic method to reduce manual operations while ensuring that everything runs smoothly in your repair business. Everything that you can imagine that will need you to work on it manually may be automated. It's a technique to help you get more done faster.
You'll be free from mundane chores, allowing you to focus on more essential tasks.
How Can Process Automation Help Your Repair Shop?
It can help you in all aspects of your business, from management and stock-ordering to customer relations.
In fact, here are a few specific ways that process automation will be helpful for you:
1. Increase Your Productivity
Automation allows you to work on what you want when you want. This means that your time is no longer wasted doing tedious jobs and instead can be used more efficiently for tasks that need attention.
You will be able to do the same without as many employees. With process automation in place, a repair shop will require less manpower than if it were to manually handle everything. This can save money and resources since you won't have to pay as many salaries, benefits, etc.
2. Save Time On Work Orders
Work orders are an essential aspect of the repair industry. But it can take a lot of time to complete them manually since you have to input all the necessary information for each device that comes in.
With process automation through POS software, this is no longer a problem!
You're able to save time on paperwork and enter data more quickly.
3. Handle Customer Relations More Efficiently
A repair shop requires an excellent rapport with its customers. And this rapport can be achieved through process automation.
You don't have to manually handle every single email that comes in from your clients anymore. Instead, you can simply set up automated responses for frequently asked questions.
This will save you time and ensure that you answer every question in a timely fashion.
4. Reduce Chances Of Error
By lowering the error margins, automation may help you do things more effectively.
For example, you won't have to worry about filling in the wrong amount or sending messages to the incorrect customer. Your automated repair shop software can quickly take care of that.
Because machines seldom make mistakes, you may sleep well at night knowing that everything is in order.
Another advantage is that reducing the typical person's workload allows them to focus on other things, lowering the chance of human errors.
5. Work On More Complex Tasks
By taking out time and resources that you would've spent on tedious tasks, your repair shop will be able to work on more complex projects.
This can also help increase the quality of service for every single customer since every member of staff has ample time to concentrate.
6. Get Better Analytics And Reports
Like every other company, repair businesses want to know how they're performing at any given moment. So keeping track of your daily sales, cost of goods sold, employee productivity, and so on may benefit your business's growth.
Automating the gathering of statistics is very beneficial, and you should apply them in all situations possible.
Reports and analyses that are automated can assist you in developing your repair business. You'll be able to see how well you're doing at any one moment with an automated procedure in place.
This can assist you in making more effective decisions. For example, information on the top-selling items, how many tickets are completed each week, or even the sort of fixed devices might help you plan better.
With this data, you'll know what to stock up on and what to promote better to boost your sales.
So, automating these reports daily is an excellent approach to develop and expand your repair business.
7. Cut Down On Operational Costs
By making your repair shop more efficient, you can reduce operating costs. In addition, you won't have to pay as much for administrative tasks because they've been automated – so the entire workload gets lighter!
The advantage of this is that it'll help save money on hiring additional employees since every member of staff will work faster and produce higher quality work.
The result is a more streamlined business that you can quickly scale up with no trouble at all.
With process automation, your repair shop will be able to handle the pressures of growth while keeping everything running smoothly and effectively.
8. Better Employee Management
You'll be able to manage your employees better with process automation. For example, you can schedule appointments, set up automatic reminders for them, and keep track of time spent on each ticket – all without having to lift a finger!
This will allow you to check in on the status of every employee at any given moment since it will automatically update whenever they do something.
This also means that you'll be able to keep up with their work and ensure they're sticking to the schedule or not goofing off in between tickets.
With automated software, every member of your staff will have a better chance at succeeding since it's easy for them to see what needs to be done.
Final Word!
That's the beauty of business process automation!
It removes all of your tedious tasks, allowing you to focus on what really matters. These essential tasks include finding new customers and keeping them happy with high-quality repairs at competitive prices.
Remember that customization is essential when it comes to choosing business software.