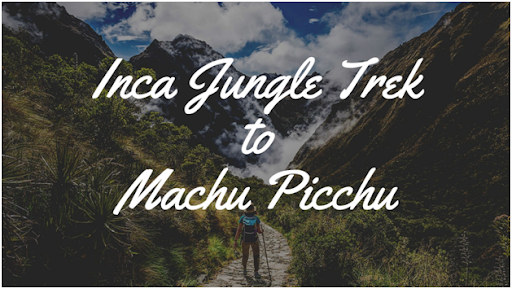 Are you an adventurous type of traveler who like thrilling adrenaline-filled trekking-experience? No doubt, Inca Jungle trek to Machu Picchu is for you. It is the most adventurous trekking option that makes your Machu Picchu experience unforgettable!
It is a 4-day itinerary of fun-filled experience that started from a bus journey to the town of Ollantaytambo where you can view beautiful sights like Urubamba River and other picturesque scenes. After this, the bus will climb up to the top of Malaga mountain where you can experience a massive downhill mountain biking.
After a 3 hours bicycle drive on curvy roads, you deserve a well-prepared lunch in the beautiful town of Santa Maria. From there, you have to make a small trek and experience the challenging white-water rafting to reach the eco lodge.
Imagine that cycling, trekking and rafting in one day!
After the jam-packed first day, you can spend an overnight stay in Santa Maria local hostel and be prepared for a big trekking activity for day 2.
Day 2 of the Inca Jungle Trek is indeed a adventurous full-trekking activity on the original Inca trail but a worthy one. The trek with distance of 15km but all at low altitude gives you a natural scenic of Inca jungle region where you can encounter different wildlife, birds, fauna and flora. You will also see the beautiful valley of Urubamba.
After 6-7 hours trekking, you will reach the town of Santa Teresa where you can soak in the incredible natural hot springs of Cocalmayo to lessen the soring of your legs and take a rest for the day.
At day 3, you can choose between a 3-hour hike or a thrilling zip-lining experience across the canyons with the high of 150 metres above the ground. Either you choose hiking or zip-lining, you have to continue trekking for 2-3 hours to the hydro-electric station where you can take your lunch before continuing to walk on great Inca paths.
You will also pass along the famous railway treks for another 2 hours to the town of Aguas Calientes, the home of Machu Picchu.
Day 4 is the day where you reap all you sow. From Aguas Calientes, you can catch the first bus to transport you to the majestic Machu Picchu or start to walk instead. It is best to go as early as you can since Machu Picchu opens at 6am for you to see the sunrise from the Sun Gate.
You can explore the ruins for a good 40-60 minutes walk from the citadel. It is also worth climbing to Huayna Picchu where the views are definitely awesome. This breathtaking scenery put this majestic place to the New Seven Wonders of the World. visit now and explore this place on your own.