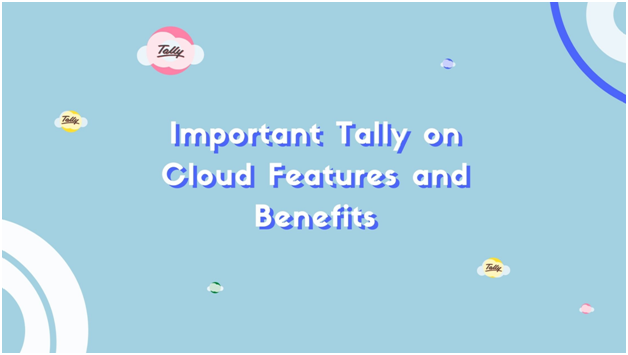 Tally on Cloud is acknowledged and appreciated globally because of the utmost reliability and comfort it offers to all tally users. Tally users can now access their Tally reports, record transactions, and manage resources from anywhere without the need for additional software or hardware.
What is cloud-based Tally ERP?
This interactive and more robust mode of Tally ERP accounting software on cloud computing has been developed through the combination of cloud technology. It aids accountants, bookkeepers, administrators, and other business executives in keeping track of their financial records while still managing their company's resources. Businesses can operate more efficiently and concentrate on their core competencies with this effective and reliable Tally on Cloud solution.
Best Benefits of Tally on Cloud:
Tally software does not have to be installed on every local machine through which Tally is used.
For taking printouts on your local machine, you don't need to install any driver.
You can directly use your default local printers to print your documents.
It becomes the most practical choice since it allows you to customize and configure your own file.
Users can also set a work-hour restriction to limit the tally usage.
No need to worry about server or hardware maintenance because everything is handled by our experts.
With multi-layer protection, the crucial data is protected from both internal and external data threats.
Professionals manage the efficiency, upkeep, management, and security of the cloud server that hosts your Tally accounts.
Best Features of Tally on Cloud:
Cloud-based Tally enables users to access any Tally version on Mac or Windows device online.
You can conveniently export your tally reports and other tally data to the local hard disks.
Allows you to create an automated backup for your Tally data.
Our cloud server provides excellent uptime and consistency allowing your tally to run smoothly.
Tally on the cloud solutions is suitable with all operating systems.
Access requires the highest level of authorization for rendering more safety.
Only users with valid login credentials and addresses are granted access.
TallyCloudHub's reliable and industry-best cloud server improves speed and performance.
Why is Tally on cloud considered as a real boon?
The function of remote working has become more efficient and reliable in performance with the efficiency of Cloud technology. With new circumstances arising, such as remote work locations and growing work-from-home culture, adopting technology such as cloud computing is proving to be a real boon to all companies.
Conclusion:
Tally accounting software hosted on Cloud allows companies to access their tally accounts from any place, at any time, and on any device. It has also become more reliable and secured to view tally reports and tally data from any location. The cloud experts take care of every aspect with their expert assistance while you use cloud technology for your tally.
Contact Tallycloudhub today to get the best deals on Tally Cloud plans or to get a free demo. TallyCloudHub is a team of professional Tally on cloud service providers who are known for providing the best cloud services at a reasonable price with top-notch management.