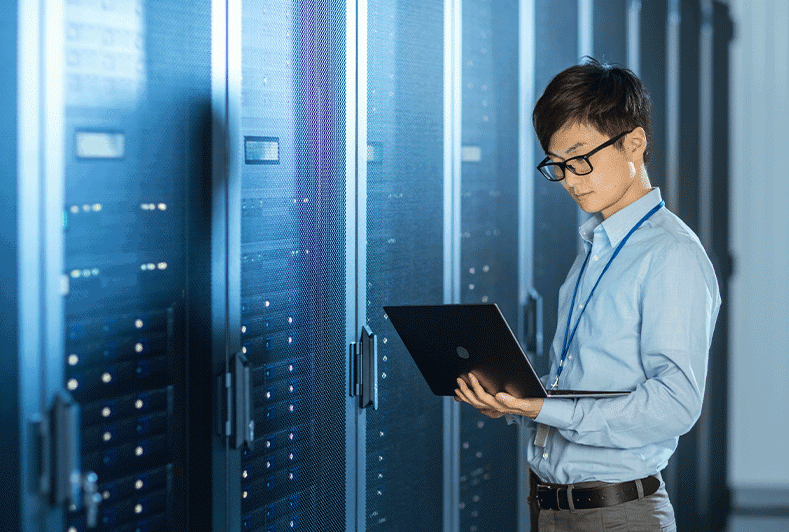 If an IT professional wants to prove their ability through getting some certificates, the following are some more valuable and well-known IT certificates:
I: VMWARE Certified Professional
If it staff's interest in data center management revolves around mobility, professional certification of VMware certification is the best choice. In modern business operations, employees usually need to be mobile in a sense. They can be asked to perform work and activities, and also perform duties on multiple devices on various networks. Therefore, these employees need a lot of cooperation and communication in order to get a better work experience. In essence, this has led to an increase in the demand for employees with a good foundation for mobility issues.
VMware certified professionals can have excellent mobile skills. Through the vcp6-dcv program, the mobile skills of professionals will be enhanced. This program mainly introduces the installation program, management and control of virtual data center. And can ensure a high degree of mobile skills, so as to improve its strength in data center technology.
II: Cisco Certified Network Professional Data Center
Cisco's certification is one of the most popular professional data center certification in the world. Getting Cisco's CCNP Data Center certification can greatly promote the career development of any professional. It is a globally recognized certification with certain authority. Cisco network professional data center provides a comprehensive knowledge base for the design and installation process of data center equipment, as well as the best maintenance practice. Their education content is very extensive, covering the knowledge of Cisco operating system and various data center technologies. In fact, IT professional can use this certificate together with a university degree or diploma to promote their career prospects. People who get this professional certification will get a huge return.
III: Certified Data Center Design Professional
This certification is very popular in the Pacific area. This is an important data center certification. For organizations with data centers, this is one of the best education and training that data center professionals should have in order to operate data centers efficiently and smoothly. It offers a variety of courses around a variety of data center operations. They include:
1:Basic data center design
2:Data center management
3:Power (it is estimated that the power 4:density of a data center is 100 times that of a large commercial building)
5:Cooling
6:Data center efficiency
This certification can provide IT professional with expertise in data center operation and design, so as to achieve better data center management.
IV: Juniper Networks Certified Professional Data Center
Juniper network is one of the main industry manufacturers in the field of data center technology. Their core business is to develop and sell software equipment and network infrastructure equipment. It focuses on organizations with important data requirements, such as government departments, Internet service providers and educational institutions. To this end, they provide Junos software and other equipment for data center management.
In addition to providing these products, they also provide data center training programs around security, service provider routing and tracking switching, enterprise routing and switching, etc. In addition, they provide the following training:
1:Data center deployment
2:Data center management
3:Multiple chassis link aggregation group maintenance
4:Data center interconnection
5:Virtual extensible LAN
6:Internet protocol structure
7:Virtual machine architecture
After the implementation of the certification three years. Juniper network launched the JNCIP-DC plan to update it.
V: Certified Data Center Risk Professional
Risk is inevitable in work and life. Most of the causal relationship papers of college students focus on this topic. As a mitigation measure, it requires transferring, absorbing or avoiding risks. Obtaining the certification of certified data center risk expert can enable data center staff to achieve the above goals when managing data center affairs. Training enables them to understand:
1:Risk management process
2:Standard procedures and guidelines for 3:Risk management
4:Risk assessment
5:Project approach
6:Risk management software
This certification is a good choice for those people with computing risk management skills around the data center.
VI: Accredited Operations Specialist
In 2018, the market for data centers grew by 21%. If IT professional want to become data center operation experts, they need to understand the data center operation process, security practices, efficiency parameters, compliance requirements, and relevant policies. In order to understand this knowledge, it is very important to obtain the certification of certified operation experts, especially for those who work in data center operation, maintenance and staffing. This certification can provide higher skills for operation managers and facility operators. In addition, if an organization like Spoto has data center facilities, the personnel in charge of its management need to learn the best practices of data center operation through this course.
All in all, the six data center education and certification opportunities discussed above will bring technical advantages to IT professional in this data-driven world. It is hoped that IT professional will strive to obtain these relevant certifications, so as to improve the quality of their career and obtain better development prospects.