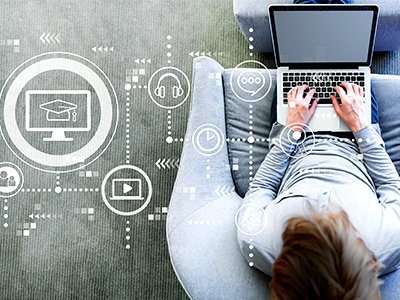 It's important that you create a happy and productive workplace for your organization. To achieve something like this, creating an effective employee training program is vital. From Virtual Instructor-Led Training to mentoring, in this article, we will go through some of the most effective and helpful training programs that you can implement in your organization.
Instructor-led training
This is one of the most common methods of training employees where a qualified instructor training a group of employees. This is especially effective when you are trying to train employees for complex processes.
To move one step forward, when you do not have enough resources for implementing training programs, you can use a virtual training program instead. The main difference between this and the traditional methods is the instructor is not physically present in the classroom.
But this has benefits of its own, such as employees can go through a training schedule without physically being in the classrooms, while getting the same information they would with a traditional method.
E-Learning
Another virtual training method that uses videos and courses to train employees This has its own benefits since employees can access this from anywhere with the help of a smartphone.
If you are looking for a method that will help you implement it quickly into your workforce, this is the one you should choose. If your organization has remote employees as well, eLearning might be the best option to train and close the skill gap.
Simulation
If you have the means to implement augmented or virtual reality devices, this can be really helpful. With simulation training, employees can be easily trained in high-risk fields. Such technologies are frequently used for pilots and doctors, but this can be helpful for other fields as well.
Mentoring
This kind of training can be compared similarly to a hands-on training method, but this is more personalized training since you are being trained on one by a mentor. This allows employees to open up and ask all the doubts they might have, which might not be possible in a group training session.
Though compared to other types of training methods, this can be expensive since it takes more time from the mentor and the trainee's work hours. This is why it should only be implemented if this is absolutely necessary.
Lecture Training
When your main aim to deliver a big amount of data or information to employees in your organization, using a lecture-style training method can be helpful. But most of the time, this tends to be not that effective compared to others mentioned in this article.
This is simply because there is no direct communication and connection between the trainee and the trainer. Which makes it harder to identify if the employees understood or are even interested in the training.
Group Activities
When you want to train a group or team of employees, using group discussion and group activities methods is very effective. This is because all of the employees will be learning together and with discussion will be able to help each other. Most of the time, this kind of training will be monitored by an instructor or a supervisor.
Role-Playing
This kind of training might be considered almost similar to the group training, where employees are asked to look at a situation from a different point of view and asked to make decisions based on the role.
These Employee Training Programs can be highly effective and should only be used for complex topics only since it requires a lot of employee time away from their respective department.